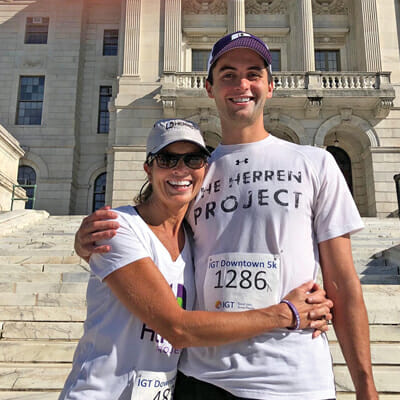 Suzanne Hole
From: Portsmouth, RI
What do you do for a living?
I'm a 3rd grade teacher in Portsmouth, RI
How did you first connect with Herren Project?
My family and I met Chris at the beginning of his recovery. I immediately felt compassion for him having been an adult child of an alcoholic father and knowing firsthand the trials and tribulations of addiction. Growing up in a home with addiction, my heart went out to Chris and his family and I just knew that I wanted to help and support him, any way I could. Chris was getting his life back on track and started giving private workouts for local basketball players. My son Evan along with his good friend Andrew was among the earliest players to attend Chris' workouts; later, our daughter Jami attended as well. Not only were our kids learning from Chris' professional expertise but more importantly they were learning about working hard, having self-respect and believing in yourself; Chris became their role model and more importantly, their friend, (as well as ours). We all forged a meaningful relationship beyond the game of basketball. He has served as a mentor on and off the court for my family and we value his friendship along with the friendship of his beautiful family. It has been amazing to witness Chris' success over the past 9 years through the power of recovery. He serves as a beacon of hope for those afflicted with the terrible disease of addiction. God works in mysterious ways and little did I know that in the years to come I would lean on Chris and Herren Project. Addiction has no boundaries and unfortunately two of my nephews struggled with addiction in one form or another. My heart is full of love and gratitude for Chris and Herren Project for the support given to us and our family through the years. I am grateful to say that today my nephews received treatment through Herren Project and both are doing well and on their road to recovery. Having been an avid runner for over 30 years, I was thrilled when I learned that Herren Project started the active engagement initiative. This provided me a chance to give back by helping my loved ones and other families struggling with addiction, realize that anything is possible.
Who's one of your running or athletic "heroes" and why?
I have a few….One is Pam Rickard! – her love for life and the passion she exhibits for others is infectious! Plus, I'm in awe of her energy and she inspires me beyond belief! I also have great admiration for Chris Herren and everything he has been able to accomplish through the gift of recovery and all of the more than 400 Herren Project runners who are making a difference!