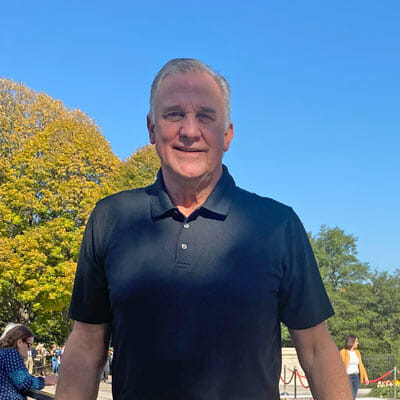 Nelson Beazley
From: Marysville, WA
What do you do for a living?
Retired Law Enforcement
How did you first connect with Herren Project?
I first learned about Herren Project through my daughter who struggled with alcohol for years and had sought help through HP. She is a Fresno State graduate as am I and we were fortunate to see Chris play for Tark during his time there. To see what he overcame gave hope. In recent years our relationship was struggling terribly and what we were doing to help Shannon with her sobriety and recovery was not working. I went on the HP website and signed up for a 15-minute consultation and had a wonderful conversation with Kristin that started my recovery from co-dependency and a better understanding of substance use disorder. I joined her Family Support Group and continue to this day.
What is your interest in/connection to recovery?
My connection to recovery is through my daughter who has struggled with substance use disorder for longer than I knew. Throughout my 41-year career in law enforcement I saw addiction firsthand on a regular basis. Unfortunately, I didn't understand addiction as well as I do now and failed to recognize the signs with my own daughter. As a dad and someone in law enforcement I was supposed to be the one who fixed problems, but I didn't see it so I could try and help. It nearly destroyed our family, but we are now stronger than ever thanks in large part to the support of our Herren Project family.
Who is someone who inspires you?
There are many people who have inspired me and had a significant influence on my life. Today I am most inspired by both my children, each for their own individual reasons. My daughter Shannon never ceases to amaze and inspire me as she continues down the road of recovery. What she has accomplished in her sobriety and recovery is nothing less than a miracle. To say it hasn't been easy is an understatement, but she is a fighter and has had such tremendous support enabling her to be successful. Four years sober and counting!
What's your favorite pastime or hobby?
You will not see me running any races with the rest of the HP staff and ambassadors! This body was not built for running but I will be there cheering everyone on.
My current top hobbies are fishing and travel. Living in the Pacific Northwest affords a great opportunity to catch the most delicious salmon and shellfish. Since retiring I have made it a goal to spend more time on the water fishing, clamming and crabbing. Travel has always been a passion and now that the world is opening up post-pandemic I look forward to seeing more of the United States, visiting more countries and taking more cruises.
What are you most proud of?
Again, I would have to go back to my children. Throughout my career there were many times I missed special occasions and school events due to the demands of the job that included shift work and callouts. Their mom was always there when I wasn't. While life is full of ups and downs the journey they have been on developed their character and where they are today gives me more joy than they know.
What does serving as a Herren Project Ambassador mean to you?
It is an honor to be a Herren Project Ambassador as it provides me the opportunity to share information about the available resources provided by the Herren Project and share our story in hopes it has a positive influence on someone struggling with addiction or a family member looking for help. There are not enough resources available but sometimes all it takes is opening the door for someone to start them down the road to recovery.