Community Partners
Partnerships for Creating Healthy Communities
Creating Partnerships in the Community
Herren Project is proud to connect and partner with other like-minded community organizations to further our mission to support, inspire, and empower those affected by substance use disorder. We are all interconnected in the fight against addiction. We strive to help more people to find avenues for hope and healing from the effects of addiction. Like the organizations we partner with, our goal is to continue to find ways to educate and inspire people to learn healthy coping skills to embrace life's challenges substance-free and empower people nationwide to take the first step towards a life in recovery. Together, we are stronger and can make a greater impact to bring positive awareness and hope to the addiction.
Liam's Anchor
It is Hope That Anchors the Soul
Liam's Anchor was started in 2019 by the Cunningham family in honor and memory of their beloved son, Liam who was kind, charismatic and funny. Liam was lost to a drug overdose on September 27, 2016.
In 2014, Liam and his friend, Mark Franks, started a small apparel company, using an anchor Liam created and patented with the hooks in the shape of Cape Cod. Liam's dream was to have his own apparel company one day featuring his Cape anchor. Sue, Phil, and Katie Cunningham, along with Liam's girlfriend, Sara, started Liam's Anchor to honor his spirit and carry on his legacy of helping others.
Baseball hats and car decals are available with Liam's anchor in purple, the color of addiction awareness and recovery with Herren Project inscribed on the back. The net proceeds of all sales are donated to Herren Project in order to support our mission of education, outreach, advocacy and treatment for addiction and recovery.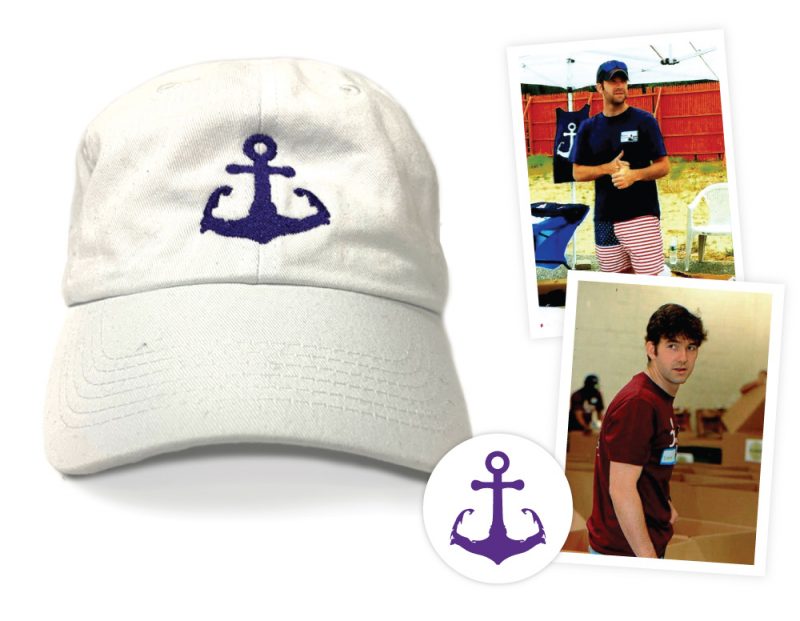 Dragonolia
Dragonolia, is a passion project built from the heart-side out to honor two souls who struggled with addiction their entire lives.
Dragonolia believes strongly in the mission of Herren Project donating $1 from each bag of coffee sold to help more individuals and families struggling with the effects of addiction.
Learn more about Dragonolia and how they have become not only a place where you can buy exceptional coffee, they are a place where you'll find inspiring stories from people around the world.
Peace Love
PeaceLove promotes mental well-being by using creativity and self-expression to inspire, explore, and communicate. The belief that everyone deserves a safe space to share their emotions, PeaceLove works to find new ways to create peace of mind through virtual classes that create fearlessly and honestly without judgment.
These pre-recorded classes promote creativity and self-expression as new tools for mental health, anytime and anywhere. empowered and inspired through creative expression, improve relationships at home and work, and have happier and healthier lifestyles.
Herren Project is excited to be able to offer these workshops as part of our prevention and outreach services in partnership with PeaceLove.
To learn more visit PeaceLove.org or contact us at prevention@herrenproject.
Family Dinner Project

Connect with Family Through Food, Fun, and Conversation
The Family Dinner Project, a nonprofit initiative started in 2010, champions family dinner as an opportunity for family members to connect with each other through food, fun and conversation about things that matter. More than 20 years of scientific research shows "why" family mealtimes are so important. The Family Dinner Project provides the "how" for today's busy families.
In partnership with The Family Dinner Project, Herren Project is please offer materials for families to start the conversation about prevention and wellness. Take a look at the conversation starters and different tools to start the conversation at your dinner table. If you're part of a Herren Project Club, download the Conversation Jar activity to start these important conversations within your club.
Learn more about The Family Dinner Project.
Rock to Recovery
Rock to Recovery helps people heal and transform their lives through the powerful experience of writing, playing, and performing music as a group.
In collaboration with Rock to Recovery, we are piloting this partnership in providing services to 7 high schools in across the country. Four times during the year, students will cover important themes, supporting the pillars of the Herren Projects Clubs program. Schools in this project serve low-income communities with large minority student populations.
Voices for Non-Opioid Choices
Herren Project is a member of Voices for Non-Opioid Choices ("Voices") and proud to endorse The Non-Opioids Prevent Addiction in the Nation Act ("NOPAIN Act"), a bipartisan piece of legislation designed to increase patient and provider access to non-opioid approaches to acute pain management.
Voices is a nonpartisan coalition dedicated to preventing opioid addiction before it starts by increasing patient access to non-opioid therapies and approaches to managing acute pain. Acute pain patients, including those experiencing surgery-related pain, often receive powerful medications to manage their pain. The surgical setting, in particular, has become a potential path to opioid abuse, misuse, and addiction in America.
"Surround yourself with people who make you better." – Chris Herren