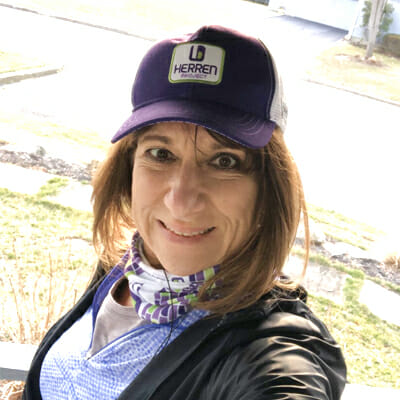 Patti Bergbuchler
Where do you call home? Northport, NY

What do you do for a living?
Currently, I am an administrative assistant in the counseling center at Northport High School. Prior to this I was a systems trainer for the insurance brokerage firm, Marsh USA, in the World Trade Center.
How did you first connect with Herren Project?
I first connected with Herren Project in 2018 through their online family support groups. However, I first learned about Chris Herren in 2011 after reading Basketball Junkie with a book club, an offshoot of our local drug and alcohol task force, of which I am a member. After a book signing in my hometown, he graciously agreed to speak privately with some members of our book club and task force.
What is your interest in/connection to recovery?
Like so many, I have experienced the destruction that the disease of addiction can cause to individuals and their families. My son has been suffering with substance use disorder for almost a decade. In addition, I have too many friends whose children have lost their battle. It pains me to see so many people and families turned upside down as a result of this devastation.
Who is someone who inspires you?
Although he has passed away, my Dad was and always will be my inspiration. He taught me about love, life and faith and that with those three things one can accomplish and endure anything. He was a man of integrity, inclusive of all and a pillar of strength for so many. He continually whispers in my ear that there is always something to be thankful for. His lessons give me strength to move through the tough days.
What's your favorite pastime or hobby?
I like to walk, run, go to the gym and spend lots of time with family and friends. I enjoy the beach and the peace it brings me. I also like to play Scrabble and other word games.
What are you most proud of?
I am most proud of the transformation I made in myself. Once I was gifted the courage to change, I lost weight, became a runner and became more connected to my God. I used to sit in the silence of my shame and fear. Today, I am confident in telling my story with the hope that I can encourage another person to realize they are not alone and they too can find peace.
What does serving as a Herren Project Ambassador mean to you?
I am humbled and honored to do this work. Herren Project has helped me, my family and my son cope with the impact this disease has had on our lives. I am eternally grateful to each and every member of the Herren Project and to the programs they offer. The love and support I have received by my group leader, Rebecca Helman O'Dowd, and my group family have carried me through some of my darkest days. As a Herren Project Ambassador I vow to make a positive contribution by helping others. I will continue to carry the message of recovery by connecting others to this amazing group of people. We all can continue to grow good things as we sow the seeds of hope.