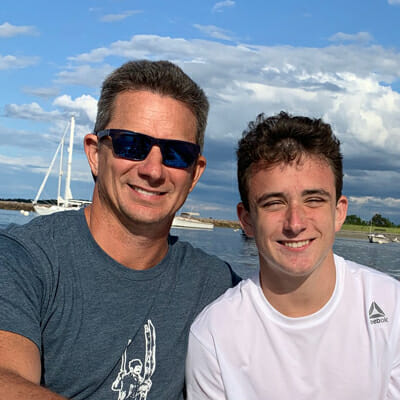 Last January, my wife Melissa and I discovered that our son had started down a dangerous road of using marijuana. Despite our numerous efforts to help him quit, within a few months, we barely recognized him. Suffice to say, he was a mess physically and emotionally. He vacillated between periods of complete disinterest in life and periods of anger, resentment and disrespect. All the while, however, he was always on the chase for more marijuana. Even in the face of our threats and punishments, his use of pot increased to a point which he/we could not control. We needed a strong intervention and reached out to our friend Lori McCarthy, Director of Herren Wellness Center. Within two weeks, the Herrens and Lori agreed to help Drew at their Jacob Hill property in Seekonk, MA. Drew was the first minor to have been admitted to their program. After 67 days at Herren Wellness, our Drew came back to us. Drew continues to work on himself each and every day. We are so fortunate and privileged to have found this place and these incredible people. Our love and admiration for everything Herren continues to grow each day of Drew's recovery.
All this said, I am now committed now to helping others receive the care that is needed to overcome this insidious disease. I run in the hopes that another family can benefit from the Herren magic like we did and I hope you will consider contributing to the incredible Herren Project foundation.
With each training challenge, I will remind myself of the strength it took Drew to face his demons at such a young age. I will also remind myself of the love and care that Drew is still receiving from Herren teams.
While it hasn't been a straight road to recovery, every day we make a bit of progress with the lessons we have learned from the Herren Team. With each step during the marathon, I will be thinking of Drew and how proud I am that he is my son. Together we run. Together we recover.
Donate toward EJ's Boston Marathon 2020 campaign