Running Across Virginia to Celebrate Sobriety and Unconditional Love
Our very own Pam Rickard set out to celebrate some exciting milestones in her life by creating #PamandTomsExcellentAdventure on April 3-7th, 2021. While some folks would pick up a cake and a card, Pam decided to run across the state of Virginia. This meaningful journey embodied her passion for distance running, her recovery and was in honor of her 35 years of marriage to her husband and Herren Project ambassador, Tom Rickard. Pam defines this journey as "our purpose is to shine a light on unconditional love and the power of healing and recovery."
Pam, Director of Active Engagement for Herren Project, leads the 900 strong men and women who make up Team Herren Project. Team Herren Project is our network of active individuals who aim to spread positive awareness and fundraise for the treatment, recovery, and prevention programs Herren Project provides to individuals, families, schools, and communities.
Pam and Tom packed up shop at their home in Rocky Mountain, VA, and headed for The Farley Center in Williamsburg, where Pam was treated 15 years ago. Pam logged her miles, clocking around 35 miles per day throughout the adventure, as Tom was a diligent crew for this amazing endeavor.
Pam and Tom's Excellent Adventure Highlight Stats
6 days
193 miles run
$7,000 raised to help break the cycle and stigma of addiction
105 caring donors
35 years of marriage celebrated
15 years sobriety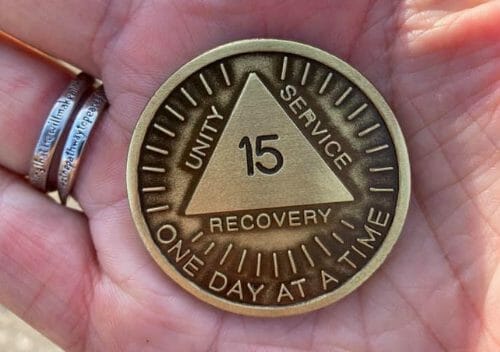 Pam is a champion for recovery and a shining beacon of hope for those struggling with addiction. Her passion and dedication as an ultramarathoner are central to the success of Team Herren Project. As the leader, she inspires everyone with hope and the power of healing that this facet of the organization promotes. Teammates come from all over the country, even worldwide, and come to Herren Project with their unique motivation. Some folks are alumni of Herren Project's treatment and recovery programs. Others have been affected by substance use disorder in their families, and some have sadly lost loved ones to the disease of addiction but participate in the events to honor and heal.
Pam was featured in this fantastic local news segment, where her laughter and smile are uplifting as she talks about her personal journey and her "Excellent Adventure."
The funds raised from Pam and Tom's Excellent Adventure will benefit Herren Project's treatment, recovery & prevention programs. Due to the COVID-19, the number of people who have reached out for help has increased significantly, so the need is critical. We are thankful for donors and fundraisers alike who have been so diligent and supportive.
In 2021, we have placed over 200 individuals, reached a milestone of over 200 Herren Project Clubs, and celebrate our 10th year! Being able to quickly respond with addiction treatment options to folks when they reach out, work with individuals and their families to help them heal, and provide students with tools and activities through Herren Project Clubs to practice healthy decision-making are all possible because of people like Pam & Tom. Their commitment to our mission to support, inspire and empower, is unwavering.
You can still support Pam and Tom's Excellent Adventure by making a donation in their honor today.