The Boston Marathon is often referred to as the "Super Bowl" for the sport of running. The 123 year-old race is only accessible to runners with a qualifying time or a non-profit program invitation. The weekend of April 13-15, 2019, Herren Project celebrated it 6th year as an official John Hancock Boston Marathon charity. In fact, Team Herren Project began in 2014 when Herren Project was awarded three bibs through the John Hancock Boston Marathon Charity Program. On Monday, April 21, 2014, Herren Project founder, Chris Herren and Executive Director, Kevin Mikolazyk, stepped off from the Hopkinton starting line and ran those 26.2 miles to Boston. Since then, Herren Project has grown into a dynamic team of more than 650 walkers/runners/athletes across the country, raising more than $1.3 million for Herren Project programs.
The 2019 marathon weekend celebration was a three-day event including the B.A.A. 5k Saturday, a team reception Sunday, and the marathon on Monday, hosting some 35 runners.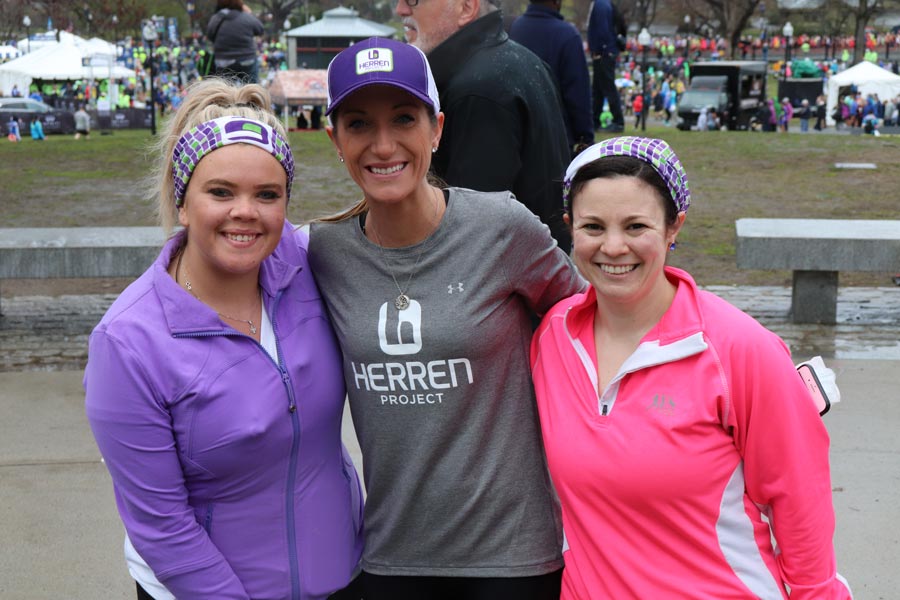 Saturday (B.A.A. 5k)
Approximately 10,000 runners participated in Saturday morning's B.A.A. 5k. Team Herren Project's 23 runners and their families represented with joy and purpose as they ran the iconic 3.1-mile route that actually crosses the Boston Marathon finish line just after the second mile.
Team Herren Project is for people who have, are, or will use their passion and energy to help support the work of Herren Project. They are a community of individuals who help each other, and others, live stronger, healthier lives while they work to promote the power of recovery.
Heather Francis ran to honor her recovery, sharing, "With each passing year of sobriety, I become more aware of the effects it has had on not only my family, but families everywhere. This year I ran for the families!"
Jill Rees participated in memory of her father, Brian McCusker. Jill said of the event, "It is incredibly inspiring to be around team members of the Herren Project who exude positively, have overcome so many barriers, and achieved so much. It is a true honor to support the Herren Project."
The team met at the Boston Common before the race to connect with other members before setting off to run in the historic city.
Sunday Reception
Herren Project hosted a two-hour reception Sunday at the W Hotel in Boston. Along with the entire Herren Project staff, more than 75 people were in attendance including runners and their families. The reception was held in recognition of Team Herren Project and their accomplishments. Director of Active Engagement, Pam Rickard introduced the 2019 Boston Marathon Team, sharing a bit of each teammate's story and why they chose to run with Team Herren Project. Pam also recognized previous years' teammates and Herren Project ambassadors for their charitable work. Along with snacks and refreshments, attendees enjoyed a photo and video presentation highlighting the past 5 years as well as a special message to each teammate from Herren Project founder, Chris Herren.
Marathon Monday
Herren Project's Boston Marathon team consisted of 12 runners, 2 of which the Boston event was their first-ever marathon. Unfortunately, one team member and HP ambassador, Caleb Daniloff suffered a late-stage injury and was unable to participate in the race itself. However, that did not stop him from losing sight of the importance of the mission, he says, "Running the race is just the icing on the cake; the funds and awareness raised, the friendships and connections made during the course of the training cycle, online and in person, is what it is all about."
As the marathon concluded, so too did another successful Herren Project team event to spread awareness on addiction and substance use disorder, foster a welcoming and loving community for those affected by the disease, and raise money to further help those in need of recovery. In total, more than $129,000 was raised between the 2019 B.A.A 5k and Boston Marathon races, engaging more than 1,100 donors.
The entire staff would like to extend a heartfelt thank you to everyone able to participate, donate, and support Team Herren Project in any way.
TOGETHER WE RECOVER