Rachel Malaka
"My older brother lost his life to addiction. And when I say, 'lost his life' I don't mean the moment the last breath left him while under the influence, I mean 16 years prior when the first drug he tried stripped him of his ability to choose to exist apart from addiction.
"In the few years before he passed, when things were at their worst, we could tell he was tired of it all. He was in and out of detoxes and short term rehabs, but always succumbing to his disease. He didn't ask for help, and we struggled to find ways to offer it to him, just trying to keep him with us long enough for a miracle. God had other plans for my family, but since learning about Herren Project, I believe they are often God's response to a family's prayers for a miracle. I'll take any and every opportunity I have to be part of that.
"Finishing in under 4 hours is what I'm currently training for, however, I have had some unexpected health challenges this season, so I'm just happy to still be able to run the marathon at all. Whatever God gives me the strength to do will be just right for me.
---
Lisa McNamara
"I'm married with7 kids, 2 grandkids and one on the way. I could be your neighbor. But life wasn't always so picture perfect. I was a mess. Quite frankly, I was on a steady downward spiral to my death. I went to rehab knowing this was my last chance. This is where I started running. I had never run more than a 10k. Since then, I've run a number of races and raised money for Herren Project, to help others still out there struggling.
"This year, I'm running the New York Marathon and dedicating it to my great nephew who almost lost his battle to a heroin overdose earlier this year. My family and I saw firsthand how Herren Project jumped in and helped my niece navigate a roadmap for his recovery. They found him a bed, arranged flights, gave support for the family and much, much more. They gave us HOPE. This is what they are all about, supporting and saving lives, one family at a time. This is why I am honored and so proud to be a part of their team.
"I'm not fast, but I never give up. I will finish knowing this is not about me it's about saving lives and showing others we can and do recover. I will cross that finish line listening to Amazing Day by Coldplay, as I can now see that everyday we are given is a gift."
---
Meghan Martin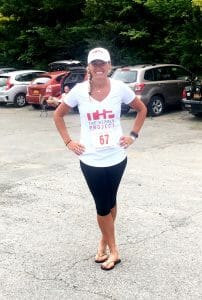 "Although nothing will ever come close my victorious finish of the 2015 New York City Marathon, finding my (now) fiancé, T.J., on his knee asking for my hand in marriage, I have decided yet again to tackle the world's most popular marathon, a 26.2 mile trek through the five boroughs on November 6th, 2017. This will be my 4th full marathon and I am so very humbled to have been selected to join Herren Project running team, fulfilling my passion of thriving physical and mental health, while raising funds and awareness regarding addiction.
"Like many of us, I have experienced addiction firsthand, as a loved one continues to fight the battle, one day at a time. I have been inspired by Herren Project's mission, and founder Chris Herren's story. Herren Project group has made me realize that I am not alone, allowing me to connect with others and receive and share advice and hope.
"As a high school English teacher in an inner city NY school district, it resonated with me that Herren is now a speaker, using his experiences to educate young people on the perils of drug and alcohol abuse in hopes of reaching and making a difference in their lives. I have seen way too often the impact addiction has on a child's learning experience, hindering them to reach their potential and all that they have to offer the world.
"I come from a family of athletes. My mother has always been a runner until hip replacement surgery put her out of commission. Now she walks, and is our number one supporter at the start and finish line of every race. When my collegiate softball career came to an end, I looked for a new hobby to stay fit. What I like most about running is the social aspect (relationships with running friends and a supportive, encouraging community) and the fact that I could run anywhere–exploring new cities and seeing sights—even on vacation. My goal for the 2016 NYC Marathon is to take in the amazing experience and finish the race! And hopefully beat last years time of 4:40!"
---
Dave Gesmondi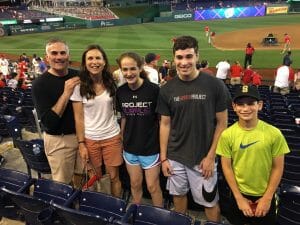 "Inspiration is a word that is often overused in our society. I was raised by a single mother so, I'm not inspired by fancy cars, money, or expensive vacations. I'm inspired by regular people who go above and beyond the call of duty to make this world a better place. I'm inspired by everyday heroes, glue guys, real people that do extraordinary things when no one is looking. Doing the right thing day by day, hour by hour.
"I saw a hero in April of 2013 on my television while on the couch in Shaker Heights, Ohio, but I didn't know it at the time. My wife and kids had no idea who Chris Herren was. I knew the public story but not the real one. I called my wife, Alexa, and the kids into the room to watch Unguarded with me, and the story floored us all and changed our lives for the better.
"In July of 2013, I dropped off my son, Ben, and daughter, Gracie, at the Herren basketball camp in Portsmouth, RI, and the rest is history. When I received a text message from Chris in 2014, asking me how my kids were, I said, "this can't be legit…who does that"? But it was, and the pictures and hugs and friendship that go along with it are real, too. Chris and the work he leads is the real deal, the real story, they are the real heroes.
"Put simply, I'm running my first marathon with Herren Project, first for my family (my wife Alexa who is the best hero I know); for Ben, my 14 year old son who is having his second ACL surgery on August 4 (and is tougher than any kid I know); my 13 year old daughter Gracie (who is the best); and my 11 year old son Derek (who is the glue and makes everyone laugh). I'm also running for my friend Chris Herren, and his passion, commitment and integrity, to make this world a better place. And finally, for the millions of people he, and THP, are trying to help. Everyday heroes. That's inspiring…."
---
Michael Olenik
"My inspiration for running the 2016 NYC Marathon was somewhat of a knee-jerk reaction to the death of my brother Stephen this past February. His death, in part, was due to his struggle with alcoholism and addiction and served as a painful reminder of how deadly the disease of addiction can be, and how it can quickly snuff out a very promising life.
"By the grace of God, I have been clean and sober for nearly 5 years. My struggles with alcoholism and opioid addiction combined with untreated mental illness, in my case major depression, nearly destroyed me. I had a very 'low bottom' and my abuse of alcohol and drugs bankrupted me in every way…emotionally, financially and most of all spiritually.
"My brother struggled with many of the same demons I have, and he was a very tortured soul. There were attempts to get him help but he could not surrender totally. Not everyone recovers. I am blessed to have had great mental health professionals and the support of men and women in recovery who helped me save my life.
"Being a huge college basketball fan, I've known about Chris Herren for many years. I had read Bill Reynolds' phenomenal book Fall River Dreams and followed Chris's ups and downs at Boston College and Fresno State. I also watched his struggles play out in national media like ESPN. Chris' time line of addiction closely parallels my own. I was deeply moved and inspired by Chris' memoir Basketball Junkie (written with Reynolds) and I finally "surrendered" September 21, 2011. I got to hear Chris speak a couple of years ago and he shared openly and honestly about his struggles and his recovery. I immediately became interested in the work of Herren Project after hearing Chris talk.
"I have never run a race, never mind train for a marathon! The impetus for running this race was Stephen's sudden passing, but I also want to show my daughter, Grace, that anything is possible and that it's 'ok' to fall, as long as we get back up. I hope in some small way I can show someone struggling with addiction that there is hope and a real shot at redemption.
"My goal is to just finish the race, I'm not concerned about the time it will take. I believe in this cause and am so grateful to be in a position to help. I'm so blessed to have the support of my amazing girlfriend Kathy and am blown away by the generosity of so many friends and family."
---
Kate Bartleman
"I live on an island 30 miles off the coast of Massachusetts, Nantucket Island. I grew up on the island and have made it my home with my husband Billy, daughter Madison and our dog and cat. I work at Nantucket Cottage Hospital in the Foundation as a Senior Development Officer. I feel very passionately about addiction and the importance of educating the youth of our communities.
"My goal for the 2016 New York City marathon is to raise funds for Herren Project's work and to run with those that are still sick and suffering with the disease of addiction in my heart. For those final miles I like to listen to Hall of Fame by The Script, its so motivating and upbeat."
---
Tyler Sargent
"I'm running the 2016 NYC Marathon in memory and honor of my older brother, John, who died this past February from an opiate overdose. This will be my 3rd marathon, and my 2nd NYC Marathon. I'm a software developer for a tech startup in New York, and live in Brooklyn with my wife Maya and my daughter, Noa."
---
Mitch Rogers
"Running the 2016 TCS New York City Marathon will be my 4th marathon representing Herren Project – I've previously run Boston '15, Hamptons '15 and Chicago '15. They are the only four I have ever run and all have been incredibly rewarding experiences. Chris Herren has been a long-time friend from our childhood growing up in Fall River, MA. He has always possessed a heart of gold and has been an incredibly caring person as the epitome of selflessness. I have seen Chris and Herren Project team in action many times and I am always amazed at the work they all do, proactively and reactively, to help strengthen our communities and provide support to individuals and families fighting addiction.
I have young girls of my own, Kaleigh – 14 and Emma -12, who both love Chris and embrace the message he shares with teens/pre-teens about being confident in their own skin and that each is perfect in who they are. This message is leading a paradigm shift in reversing peer pressure and the way society views addiction. Chris' presentations stimulate healthy conversations within our family, with our adult friends and amongst our daughters' group of friends. Herren Project helps us engage in topics that were taboo to discuss when I was younger and facing similar challenges.
I am incredibly fortunate that I get to share this run with Chris, which will be our second marathon together, along with a great Herren Project team! My goal is to enjoy the experience and be grateful to all of my friends and family who support me through their encouragement and donations to Herren Project. I will feel my wife's and daughter's love as they join me in New York and cheer me through the city's boroughs. I will also reflect on my personal experiences and will remember those suffering through addiction today and pray that they ask for help and choose to accept the daily steps toward health and recovery. Hopefully, at the finish, I will also be very grateful to Team Herren Project coach, cheerleader and embodiment of enthusiasm, Pam Rickard, for providing the support we all need to prepare for this day! If NYC is like the others, it will be a remarkable day filled with emotion – nerves, excitement, anticipation, smiles, laughs, pain, tears, hugs, joy and most of all gratitude. I can't wait for the day to arrive!"
---
Chris Herren
"This November I am honored to run on behalf of my foundation, Herren Project, as part of the 2016 TCS New York City Marathon team.
As I set out to run my 3rd marathon, I hope to bring continued awareness to the disease of addiction and raise funds for treatment navigation, education and mentoring programs. I also am grateful to be running along side an amazing group of friends, family and those who share a passion of running to support others find the gift of recovery.
Many of you know I am not a runner, but as a competitor love a challenge and look forward to beating my last marathon time set in 2015 at the Hamptons Marathon. I would be truly grateful for any donation to help me reach my goal and assist the mission and programs of Herren Project in 2016. Every donation large or small truly does make a difference! Let's Do This!"