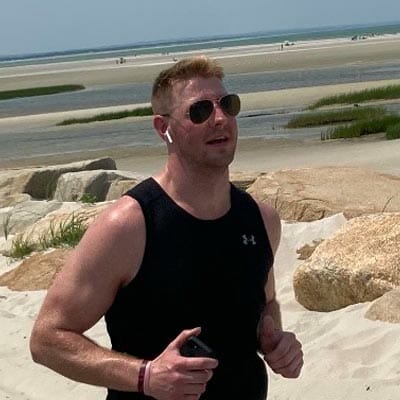 Tim Sheehan
From: Wrentham, MA
What I do for a living: Physical Education Teacher
Why I choose to run Boston with Herren Project:
I chose to run with Herren Project for many reasons.  I wanted to help people and raise awareness about addiction and substance abuse.  I was teaching a health class to middle school students and I showed the documentary, "Unguarded" as part of the curriculum.  Many students had family members struggling with addiction. I also have family members that have struggled with substance abuse.  I am also a basketball coach and this is an organization that I personally identified with.  After working from home during the pandemic, I wanted to run more and do something nice for people.
What I do for fun (besides running and helping others!):
I like to lift weights and play basketball.  I coach basketball and like to go to the beach in Cape Cod.
What I'm most proud of:
I am most proud of the person I have become and the person I am continuing to grow into.  I am proud of the goals I have achieved like finishing my master's and doing a job that I love.
https://www.givengain.com/ap/timothy-sheehan-raising-funds-for-herren-project/